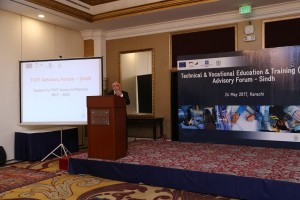 Representatives from public and private sector acknowledged the significance of partnership amongst for a strengthened Technical and Vocational Education and Training (TVET) sector, contributing towards economic prosperity in the province. The opinion was developed in a meeting held on May 24, 2017 in Karachi, organized by the TVET Reform Support Programme, funded by the European Union and the governments of Germany and Norway.
The 'TVET Advisory Forum – Sindh' is expected to serve as a platform for the public and private stakeholders to advise and support the implementation of TVET reforms in Sindh. The reform Programme is being implemented in partnership with private sector organizations as well as public sector organizations including Sindh TVETA and other TVET bodies.
Speakers including Muzaffar Ali Bhutto, Managing Director Sindh TEVTA, Majeed Aziz, president of Employer Federation of Pakistan, Mr. Mashood Ali Khan, Chairman PAAPAM, Mr. Kamran Ansari, Vice Chairman, PIFFA and others appreciated the idea of the formation of a forum which will help in accelerating the pace for the implementation of National Vocational Qualifications Framework (NVQF) through various CBTA pathways with industry.
Mr. Shahid Abdul Salam Thahim, Special Assistant to Chief Minister Sindh for STEVTA extended his support from Government to support the 'TVET Advisory Forum – Sindh'
They also agreed upon the establishment of secretariat of the forum comprising of private and public sector representatives. The speakers mentioned that the establishment of this forum will help in a close coordination and looking at the futuristic aspect of bringing technical and vocational skills in mainstream market. The forum through its joint secretariat will formulate technical working groups to support the implementation of TVET activities.
The forum has been created after several consultative and plenary meetings of relevant stakeholders in the province and there is an agreement for shifting the traditional training system into Competency Based Training and Assessments (CBT&A).