By Sheher Bano
Beautifully designed kurtis, tops, ladies' suites, trousers etc. in vibrant colours and adorned with very intricate embroidery, were displayed in the wooden almirahs, lined along the walls of a room downstairs. On the display were also other products, like ladies' purses, clutches, embroidered pieces used as embellishments on shirts/suits, cushions, bed sheets, table covers, parandas (decoration of braid tassel), baby shoes etc. put finely on racks in other cabinets. The outfits had a local and traditional touch, with vivacious colour combinations, usually seen in semi-rural set up, a little different from the ones in high fashion streets of big cities of Pakistan. Beautiful Sindhi and Baluchi embroidery, mirror work, appliqué work, shadow work and other traditional stitches, were seen in almost every piece of apparel on display. Some dresses with modern cut were also designed for the young fashion lovers. All the gorgeous products were the hand work of the women and girls' trainees who were enrolled in the fashion designing and dress making courses, offered by Vocational Training Centre, Quetta, as a part of Competency Based Training (CBT), imparted under the umbrella of Balochistan Women Business Association (BWBA).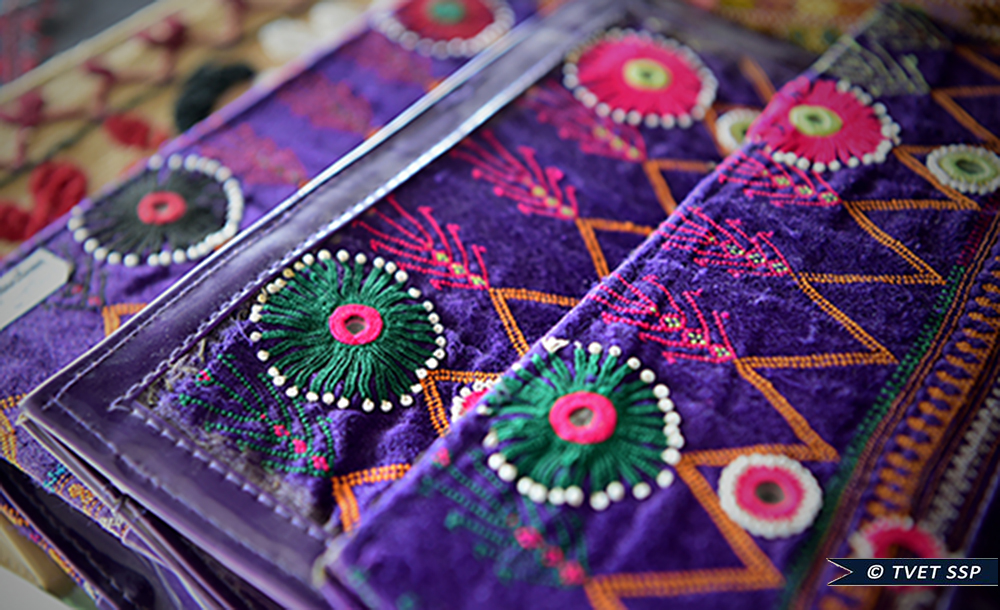 BWBA has been conducting these courses under a fund for workplace-based training for Sindh and Balochistan, which was set up by the TVET Sector Support Programme, funded by the European Union and Germany and Norwegian governments to prepare young people for the labour market. The fund supports training institutes to develop and provide tailor-made programmes for enterprises. The objective is to facilitate the training of 18,000 men and women in Sindh and Balochistan and assist them in finding employment after graduation.
Situated in a small two-storey building in Jinnah Town, Sumangali Road, BWBA's Vocational Training Centre, has just shifted here as the previous facility was too small for the training purpose. Registered in 2014, with the Directorate of Industries and Commerce's Quetta Balochistan, BWBA has 1,200 members including entrepreneurs, home based and market-based workers, international business women and mid-women for the domestic market. It works for women empowerment in business and trade and supports skill enhancement and capacity building of its members.
The centre is offering five trades vis-a-vis E-commerce, IT Office Assistant, Cooking, Fashion Designing and Dress Making, under cooperative training mode in which four months training at the centre is followed by two-month on-the-job-training (OJT) at the enterprises. The centre caters to the girls coming from Jinnah Town, Shahbaz Town, as well as the adjoining villages such as Killi Ismail, Nawa Killi, Kili Nausar, killi Shabo, situated along Samungali road.
"A total of 180 girls are enrolled in these trades. Minimum qualification for Office Assistant and E-commerce courses is FA/FSc while for cooking, dress making, it is primary and for fashion designing, Matric/FA is mandatory", says Sana Durrani,Chairperson Baluchistan Business Women Association (BWBA) and Principal of Vocational Training Centre.
"Illiteracy and poverty mars these areas and educational facilities are very substandard there. Non-affording students yet meeting minimum educational qualification and having a vision of either doing a job or doing entrepreneurship after this course was the major criteria of the admission policy," says Sana.
"While interviewing these students, the first reaction came was: No job permission". While not pushing for things which were not possible at that time, we focused on their grooming and giving them confidence. Exposure visits and guest lectures helped these trainees to see beyond their little world, "which was rather filled with fear of a male dominance. Except for the cooking girls who were initially not ready to go for OJT, girls from other trades came with an improved confidence and learning after their OJT," Sana opined.
55 years old Zulekha, a resident of Nausar Killi, Sumangali road, which is almost one and a half hour journey from the centre, uses public transport to come to the centre, to do her dress making course. "My passion to learn drove me to join this course," says Zulekha.
Zulekha was motivated by her daughter, a 9th grade student in a school, who found about this course through some friends, and was eager to join it. "It was our joint desire, but my daughter is too young to come here alone. So I along with my daughter joined this course and did OJT at Waqar Boutique at Nawa Killi, Quetta." Other dress designing trainees went to Uzma Boutique and Anmol Boutique.
"During OJT, we learnt about latest colour schemes, modern outfit designs, and trends in vogue in the fashion market. It also gave us an idea about what and how we can make our products saleable in the market," informed Zulekha.
While wanting her daughter to complete her matriculation, Zulekha after completing her course makes Balochi suites with Balochi embroidery on them, "A traditional Baluchi suite takes one year to complete, and it is sold for Rs. 8,000-10,000" says Zulekha.
"These women get very less payment of this highly intricate and time consuming embroidery. The same suite is sold at a very high price in the markets of big cities," says Bilqees, the Industrial Coordinator of the centre, who herself is doing her M. Phil. in Economics.
When asked to bring them bulk work of Balochi suites, Bilqees explained: "We cannot entertain bulk orders, as every woman makes stitches in different style and bulk orders are not only time bound but also need uniformity in designs." Due to very little concept of commercial market, they lack this aspect of business, and meeting time criteria is also difficult as they do embroidery in their free time. We have to compromise with their work schedule and cultural values, which is another reason to refuse bulk orders, otherwise, there is a demand in the market. However, they make other products for local market, like bed sheets, cushions etc. A normal bed sheet brings them an earning of Rs 2,000-3,000 while the bridal bed sheet, with more sophisticated hand work, is sold for a higher price", informs Bilqees.