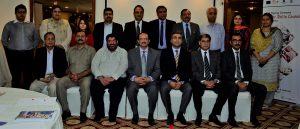 Islamabad, August 16, 2018: The National Vocational and Technical Training Commission (NAVTTC) and various associations from the textile sector have joined hands to establish an industry-led Sector Skills Council for the sector.
Both the industry and NAVTTC expressed their resolve to work together at a ceremony, which marked the signing of an Memorandum of Understanding (MoU) for establishing the Sector Skills Council (SSC) for textile sector held here on Thursday.
The MoU was signed by the representatives of Pakistan Hosiery Manufacturing Association (PHMA), All Pakistan Textile and Manufacturing Association (APTMA) and Pakistan Retail Exporters and Manufacturing Association (PRGMEA), Sitara Group of Industries and NAVTTC.
Speaking at the ceremony, representatives of the textile associations appreciated the concept of SSC and showed enthusiasm to take lead in the establishment of the SSCs to improve quality of vocational training.
Executive Director NAVTTC Mr. Zulfiqar Ahmad Cheema appreciated the interest of the associations in the establishment of the councils and asserted that the interest of private sector will eventually support in mitigating the well-trained human resource gap for the industry.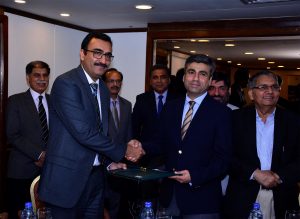 The establishment of SSC in textile will increase cooperation and collaboration between public-private sector on matters related to setting skills standards, identifying occupational gaps, Recognition of Prior Learning (RPL), job placement, apprenticeship, teachers/instructors training and on-the-job training.
The establishment of SSCs is being supported by the TVET Sector Support Programme, which is funded by the European Union and the governments of Germany and Norway, in Pakistan as part of ongoing TVET reform.