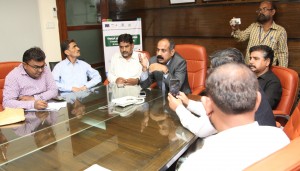 KARACHI September 7, 2017: Provision of employable skills can help reduce unemployment and support economic growth, says Managing Director Sindh Technical Education and Vocational Training Authority Muzaffar Ali Bhutto.
Mr. Bhutto was responding to questions of a group of media persons following their visits to various institutes offering Competency Based Training & Assessment (CBT&A) here in Karachi.
The media tour to the institutes of the Sindh Technical Education and Vocational Training Authority (STEVTA) was supported by the TVET Sector Support Programme, which is funded by the European Union and the governments of Germany and Norway.
"The role of media is momentous to raise awareness and interest about skills development," opines Mr. Bhutto, while emphasise the importance of Technical and Vocational Education and Training (TVET).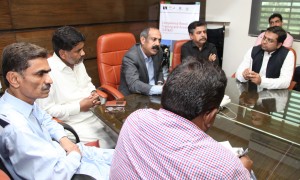 He highlighted a number of interventions that S TEVTA has carried out under the umbrella of National Vocational Technical Training Commission (NAVTTC) mainly on the training pattern of teachers, assessors and trainees. He shared the achievements of the authority and apprised them on the efforts of the organization in uplifting the technical and vocational education and training sector in the province.
The group of media persons visited Technical Training Institutes like Hunar Foundation, Vocational Training Institute, Bufferzone, Karachi and Government College of Technology for Girls, Kareemabad where technical training on different occupations is delivered in CBT&A approach. NAVTTC and provincial TEVTA (s) aims to train more than 48,000 people in competency-based skills from the informal sector over a period of 5 years with the support of TVET Sector Support Programme.