LAHORE, June 1, 2016:The Punjab Vocational Training Council (PVTC) is striving for producing a skilled workforce, which is able to meet the de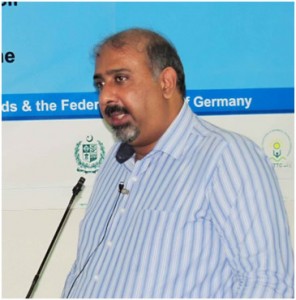 mands of the job market and industry, chairman PVTC Mr. Faisal Ijaz Khan tells a group of reporters here on Wednesday.
"No vocational training programme can be effective if it is not designed and delivered according to what is needed in the industry," he remarks, saying "we are trying our level best to make our training programmes in line with the needs of the market."
Mr. Khan was briefing reporters here at the Green Town Vocational Training Institute of the PVTC, which is offering for the first-time a Competency Based Training course in various vocational trades. The media persons were given orientation about the CBT, which the PVTC has initiated in 60 vocational training institutes across Punjab.
The CBT is one of the innovative approaches to reduce un-employment ratio in the province, these training initiatives which is supported by the National Vocational & Technical Training Commission (NAVTTC) through TVET Reform Support Programme.
According to Faisal Ejaz Khan the CBT scheme is being piloted in the 60 institutes of the PVTC, saying completers of these programmes will have better prospects for employability.
The introduction of CBT is an important element of the National Skills Strategy (NSS), which is the basis of the ongoing TVET sector reform in Pakistan and being supported by the European Union, the governments of Netherlands, Germany and Norway.
The CBT programme provides the basis for the implementation of the National Vocational Qualifications Framework (NVQF), which the government has launched in March this year at a national level. Under this paradigm shift, the training programs are designed and delivered by adopting a systematic approach, focusing on better employability of the trainees with a strong link to the market.
The duration of these new special training programmes ranges between 6-12 months. Apart from Sindh, the CBT programme is also being implemented in 130 TEVT & PVTC institutes across the country.
"Private sector's engagement in the planning and delivery of technical education and vocational training (TVET) is a key and that is why the PVTC is introducing CBT training courses, which links the training to the market needs," Mr. Khanopines.
The trades in which the CBT programmes are being offered include Beauty Therapy, Hair Stylist, Skin Care, Computer Operator, Web Designing & Development, Auto-Cade, Graphic Designing, E-Commerce, Heating & Ventilation ,AC, Electronics Technician, Building Electrician, Solar Panel Installation, Plumber Solar Panel water Heater installation etc.