Lahore, May 2, 2019: Two leading German energy companies, a Pakistani association of energy companies and Punjab TEVTA have signed an MoU to promote quality training of solar technicians in Punjab. The Memorandum of Understanding (MoU) is signed bwteen Technical Education and Vocational Training Authority (TEVTA), Power one for one, Aream GmbH and Solar Quality Foundation (SQF) to launch Clean Power Purchasing Development Project.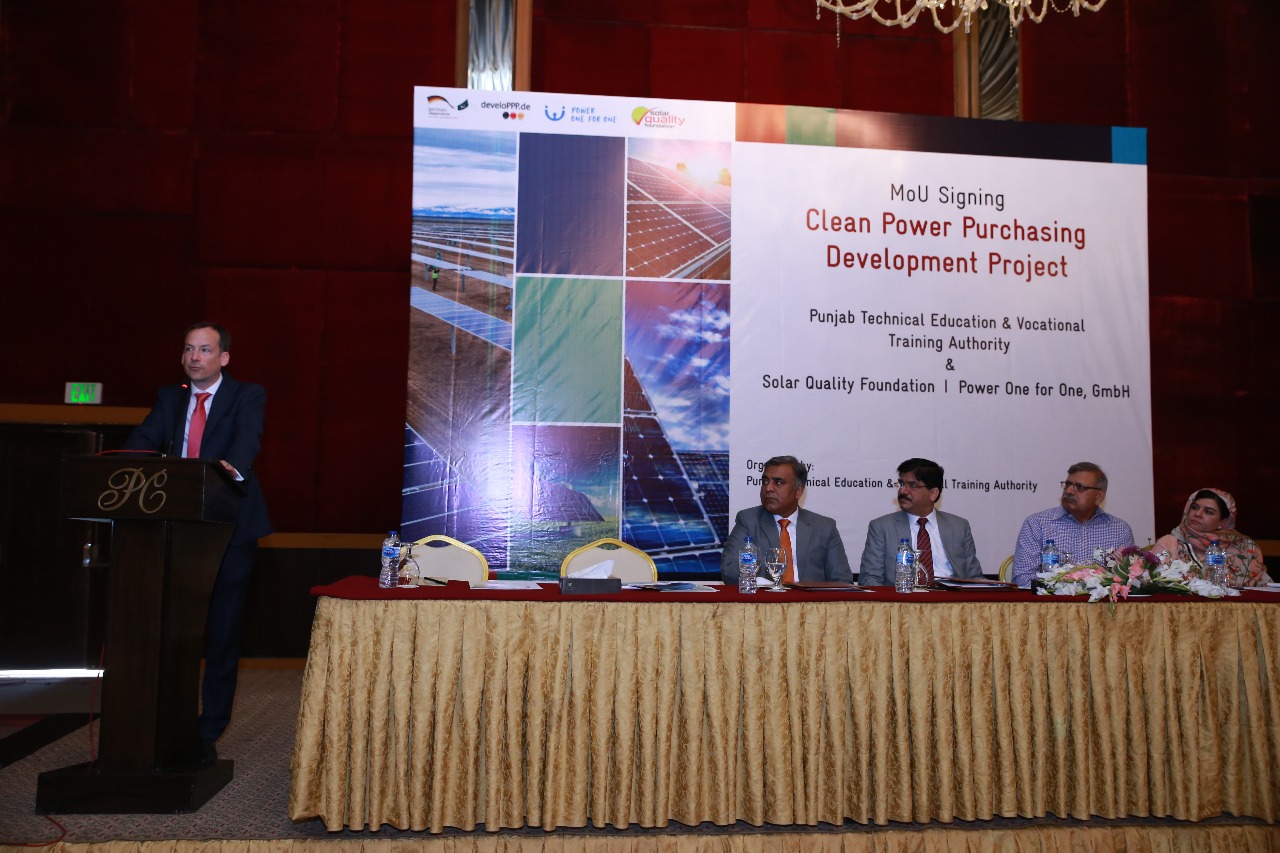 The partnership is supported by the TVET Sector Support Programme which is funded by the European Union (EU), governments of the Germany and Norway and implemented by GIZ.
General Manager Operations, Punjab TEVTA Mr. Amir Aziz while speaking at the occasion said that, "the project as a joint venture will install pilot photovoltaic plants for commercial and training purpose, the project will train 10 trainers and 100 technicians and raise awareness about significance of solar energy."
Speaking at the occasion, Patrick Lemcke-Braselman, Managing Director AREAM GmbH said that this partnership is a step forward for a clean and green Punjab. "The project is will pave way for the exemplary activities to adopt renewable energyin the country as an efficient and convenient way of obtaining energy and moving towards a sustainable community', he said.
Mr. Muhammad Ishaq Bhatti, Chairman Solar Quality Foundation (SQF) said that this project will provide a sustainable model to the province to not only reflect the adaptation of clean energy methods in Punjab but will create examples for the other provinces. This project has a huge interest from the private sector companies because of its efficient eco-system approach.
The Clean Power Purchasing Development Project Pakistan is a joint venture of AREAM GmbH and Power One for One, the two global companies. This development partnership with these two entities is part of the develoPPP.de programme, which Deutsche Gesellschaft für Internationale Zusammenarbeit GIZ GmbH implements on behalf of the German Federal Ministry for Economic Cooperation and Development (BMZ).
The objective of the project is to promote, facilitate, transfer knowledge on the technical planning, operation and maintenance of solar power projects in private sector of Pakistan. It is a pilot project, which is expected to pave the way for opening of systematic solar power industry in Pakistan as per international standards. Under this project, both the sponsoring companies intend to introduce clean power projects as the reliable and cost effective, decentralized power alternative and offer them to national and multinational companies based on Power Purchasing Agreements (PPA) or other similar contracts.