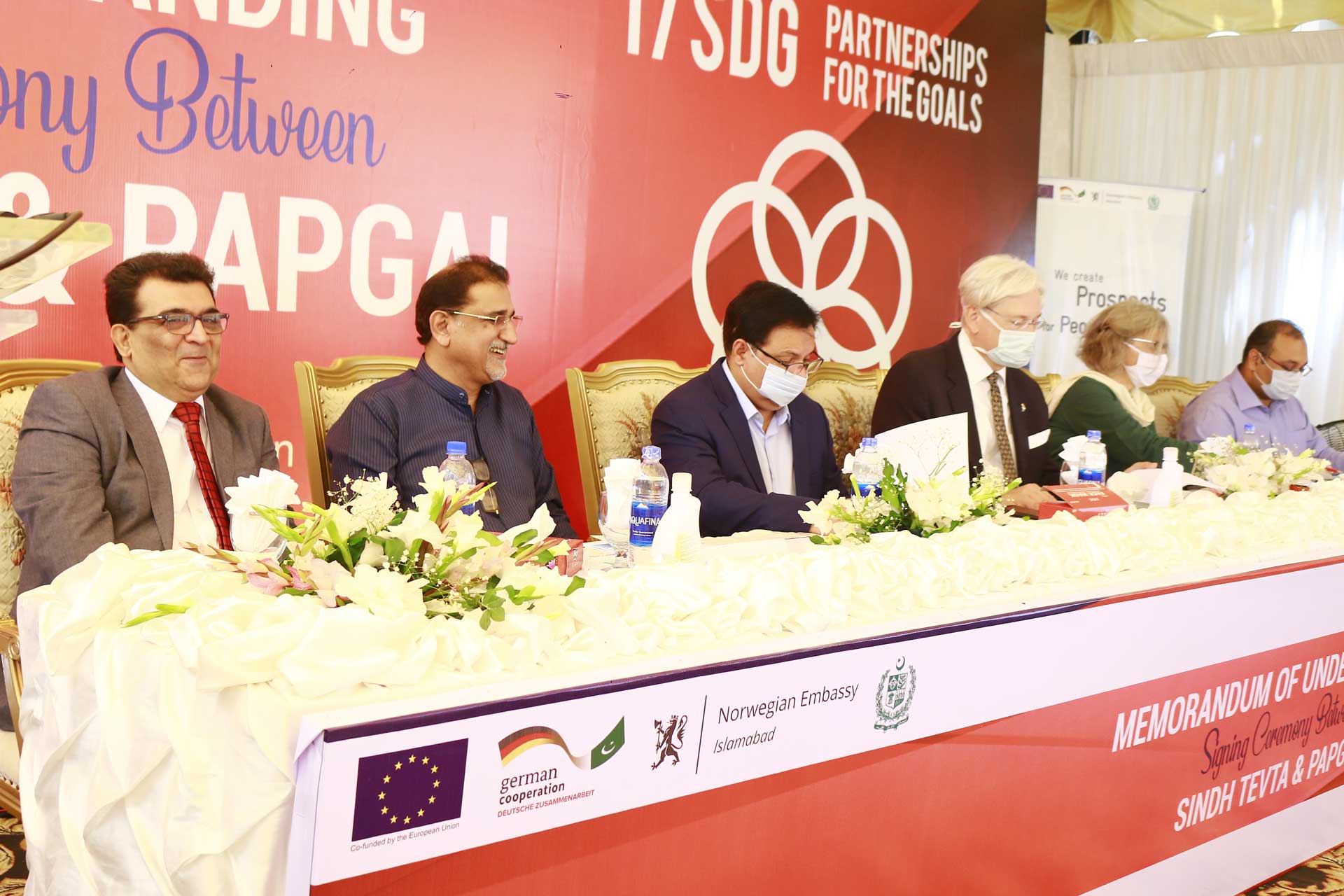 Karachi, September 29, 2020: Sindh Technical Education and Vocational Training Authority (TEVTA) and Pakistan Association of Printing & Graphic Arts Industry (PAPGAI) agreed to jointly work for producing skilled workforce required by the printing and graphics industry.
The industry expressed their resolve to work hand-in-hand with public sector, at a ceremony which also marked the signing of a Memorandum of Understanding (MoU) between the PAPGAI and Sindh TEVTA. The ceremony held at headquarter of Sindh TEVTA on Tuesday. The partnership is supported by the TVET Sector Support Programme (SSP), which is funded by the European Union and governments of the Germany and Norway.
PAPGAI will take over the training delivery and management of trainees at Pakistani Swedish Institute of Technology (PSIT) Karachi, an institute operating under Sindh TEVTA with the aim to impart workplace-based training (WBT) to 500 men and 100 women trainees in 4 demand driven trades under competency-based training (CBT) methodology. This public-private partnership will ensure facilitation of on-site training of 600 trainees leading to their employment.
Agha Sohail Ahmed Pathan, Managing Director Sindh TEVTA and S.M. Naseer Uddin, senior vice chairman PAPGAI signed the MoU on behalf of their respective organizations.
Chief Guest Mr. Jam Ikramullah Dharejo Provincial Minister for Anti-Corruption, Industries & Commerce and Department of Cooperative Societies, said, "this collaboration will not only result in better employment opportunities for the youth but it will also benefit the industry. This kind of partnership should be replicated in other TVET institutes in Sindh, which will embark upon the way of an improved world-of-work experience in training implementation."
Speaking at the occasion, His Excellency, Mr. Holger Ziegeler, Consul General of German Consulate in Karachi said, "Pak-German support through TVET Sector Support Programme is extended to the Government of Pakistan as-well-as provincial governments since 2011 in reforming the TVET system, promoting cooperation between training providers and industry to improve quality of training as well as enhance employability for the youth going through various training programmes. This public-private partnership is the beginning of similar opportunities in future, where industry will take lead in training delivery and hence it will provide ample indigenous employment opportunities to the youth of province of Sindh."
Chairman Sindh TEVTA, Mr. Saleem Raza Jalbani said that the technical skills training and education can prove as a significant value addition to the industry. Collaboration between public-private sectors can enable a conducive environment for indigenous curriculum development and training delivery. This public-private partnership is first of its kind in not only Sindh but in entire Pakistan as private sector has come forward to take ownership of training delivery and employment.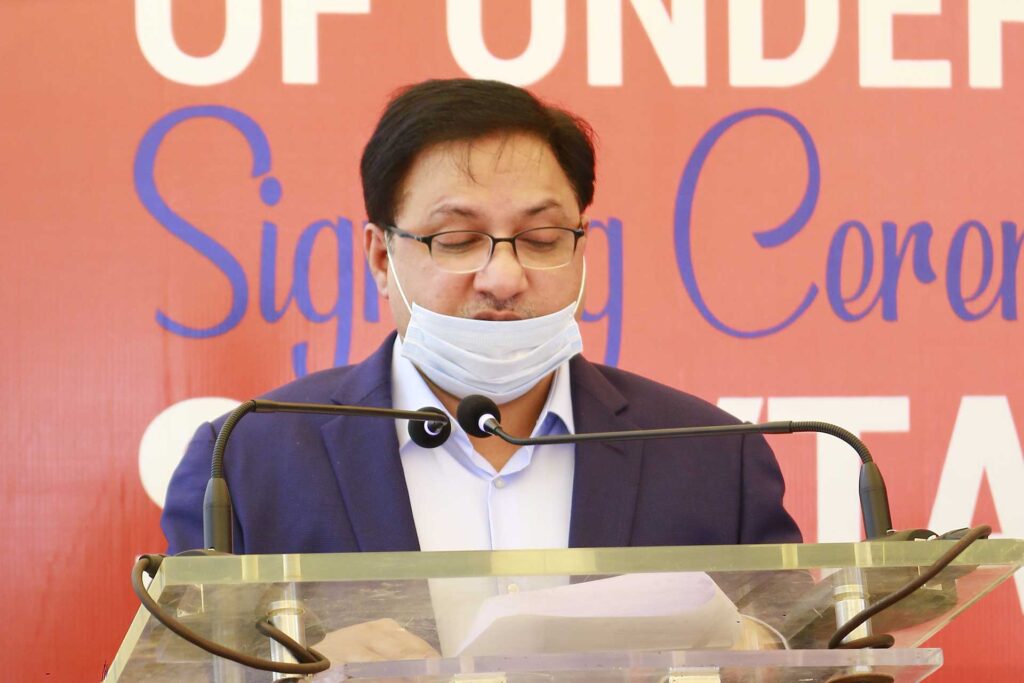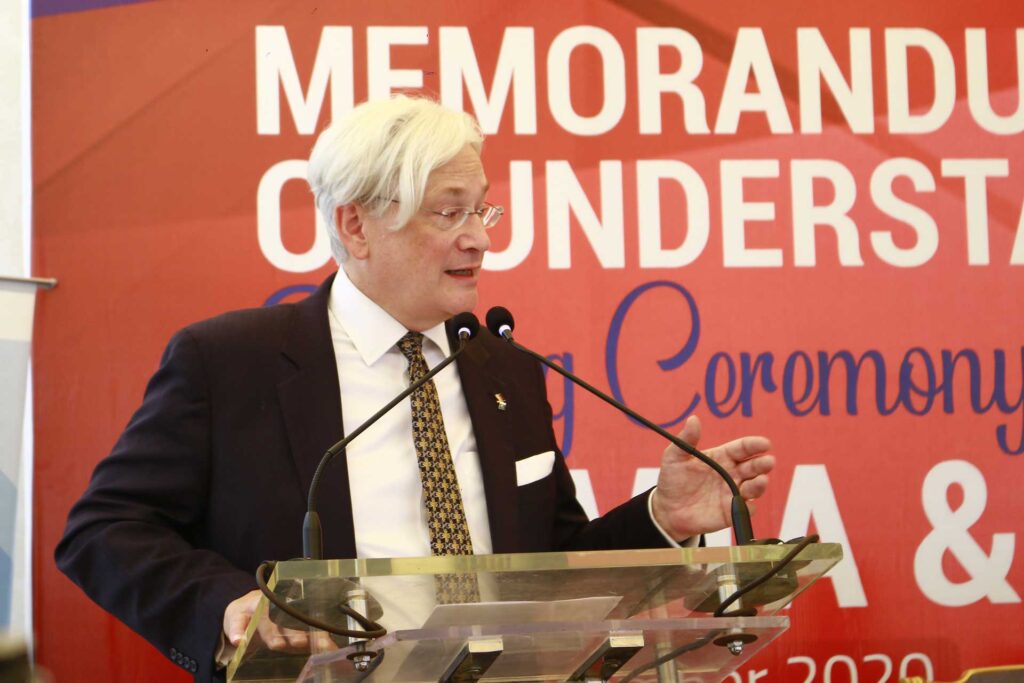 Speaking at the ceremony, Chairman TVET Committee in Sindh, PAPGAI Mr. Salman Haroon said, "Skilled workforce trained through technical and vocational education as per industry's demand can improve the economic output for the industry and add value in terms of quality human resource."
At this occasion, number of business leads of the province like Dr. S.M. Minhaj Uddin, Head of The Times Press Pvt Ltd., and largest employer of TVET graduates, Mr. Ismail Memon, Head of Paradise Press Pvt Ltd, Regional Director General Sindh, NAVTTC, Ms. Nabila Umer and Ms. Iris Cordelia Rotzoll, Head of TVET Sector Support Programme, GIZ were also present.