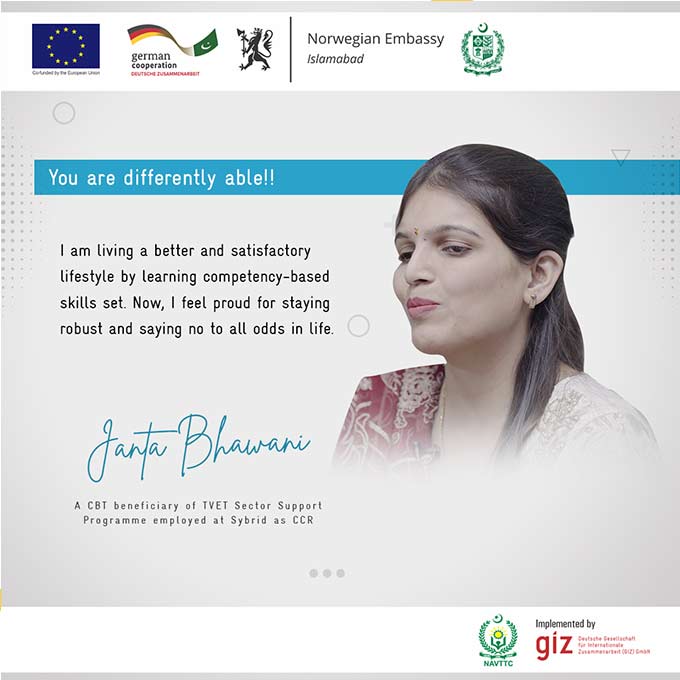 Janta Bhawani
A CBT beneficiary of TVET Sector Support Programme employed at Sybrid as CCR
Janta Bhawani is an example of sheer resilience and saying no to all the odds in life. Janta went partially blind in her childhood and it kept on increasing by the age. Her parents stood by her side and continued giving her the confidence and courage every special child needs to have life. She continued her education with other normal vision kids and ended up graduating in Physiotherapy.
Janta got married and she took it as a new motivation to struggle more for earning a decent life for her two beautiful kids. She tried hard to find a job in relevant field of a private or a government hospital but the responses were quite usual like, we loved your portfolio but the policy does not support of hiring a special person on such job.
As Janta describes, 'this was quite a dark period of my life but the parents kept me motivated and filled with positive energies'. One day she received a promotional text message by NOWPDP (Network of Organizations working with people with disabilities, Pakistan) about a customer care representative course for visually impaired people supported by TVET Sector Support Programme.
This brought a new hope to her and she was enrolled in a three-months' course of customer care representative. Janta successfully completed the course where she was taught by the industry experts and that also included visually impaired instructors who are working in the industry for more than a decade now. After the completion her training, she received an on-job training (OJT) of another three-months. This led her to a permanent job in a well reputed customer care brand and now she is working there as customer care representative.
Janta believes in dedicated hard work and persistence. She is thankful to TVET Sector Support Programme for empowering by training her with a competency-based skill set which brought her a new hope in life for achieving her goals.
Jantais the beneficiary of TVET Sector Support Programme, which is working with NAVTTC, provincial TEVTAs and PVTC since 2011 for bringing reforms in TVET Sector. The second phase of programme has funding of 62.5 mn euro for implementation of reforms in the TVET sector of Pakistan on national, provincial and regional level. The Programme is funded by the European Union, Federal Republic of Germany and the Royal Norwegian Embassy. In second phase of its implementation, programme is supporting competency-based-training of 36,800 men and women on the indigenous and industry-demand-driven trades. The Programme has been commissioned by the German Federal Ministry for Economic Cooperation and Development (BMZ) and is being implemented by the Deutsche Gesellschaft für Internationale Zusammenarbeit (GIZ) GmbH.