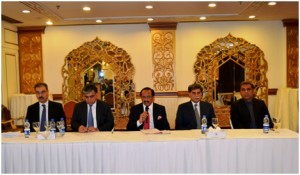 ISLAMABAD, March 21, 2017: The National Vocational and Technical Training Commission (NAVTTC) has announced to establish Sector Skills Council (SSCs) in key economic sectors to ensure involvement of industry in a meaningful way.
The announcement was made by the Executive Director of NAVTTC Mr. Zulfiqar Ahmed Cheema while inaugurating a one-day orientation workshop on SSCs.
The workshop was organized by the NAVTTC in collaboration with TVET Reform Support Programme, which is funded by the European Union and governments of Germany and Norway. Renowned industrialists, employers and experts from four economic sectors such as construction, textile, hospitality and agriculture attended the workshop.
Speaking on the occasion, the Executive Director NAVTTC shared the initiatives of NAVTTC and highlighted the importance of quality and demand-driven vocational training.
Referring to the recent national skilled competition, Mr. Cheema said that the skills competition paved way for reducing the stigma linked with blue collar jobs andwould enhance the dignity of labour in our society.
Muhammed Ali Khan, Team Leader Private Sector Engagement TVET RSP, in his presentation highlighted the importance of SSCs.
Those spoke and shared their opinion at the occasion includes Shahid Rafiq, Mohsin Shekani, Ghulam Qasim, Syed Mubarak Ali, Samia Ikram, Afzal Siddiqi and others.
The workshop was aimed at creating common understanding about the establishment of SSCs in four potential economic sectors including agriculture, construction, hospitality and textiles.