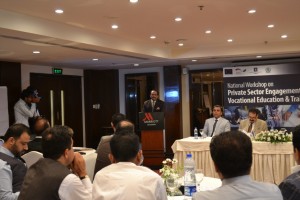 ISLAMABAD, May 8, 2017: National Vocational & Technical Training Commission (NAVTTC) has invited the private sector to join hands for producing qualified workforce according to the needs of job market.
Executive Director NAVTTC, Mr. Zulfiqar Ahmed Cheema gave this call at a one-day national workshop on private sector engagement in TVET held on May 8, 2017. The workshop was organized by the TVET Reform Support Programme, which is funded by the European Union, the Federal Republic of Germany and the Royal Norwegian Embassy.
Speaking at the workshop, Mr. Cheema acknowledged the contribution of private sector organizations, saying "without the collaborative efforts of public and private sector, it is impossible that we produce workforce what is required in the market." He explained that the Government of Pakistan considers private sector's participation in TVET as a crucial element of the ongoing reform. He urged the representatives of the private sector to come forward and join hands with the government in this national cause.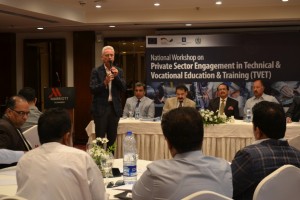 The workshop was moderated by International Expert Mr. Eckard Schleberger, asserting on the significance of having a common vision for TVET reforms and importance of prioritization of agenda by the private sector organizations.
The workshop aimed to achieve two-fold objectives of input by the participants for joint vision of private sector engagement and seeking recommendations and way forward for formation of a joint working group to propose ways and means for ensuring private sector participation during implementation of the Programme.
Based on extensive discussion among the participants in moderated session, various recommendations were deduced on the way-forward for increasing the engagement of private sector in TVET. The session was concluded with the aim of continuing dialogue between public and private sector for the TVET reform in Pakistan.