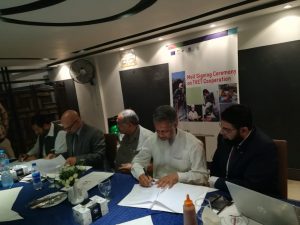 Lahore, 12 Nov 2018: Two leading training providers and nine business and industry associations have joined hands to produce skilled workforce according to the needs of industry in Punjab.
Both the training providers and the industry associations expressed their resolve to cooperate in the technical and vocational education and training (TVET) sector by signing of several Memorandum of Understand (MoUs).
These MoUs have been signed between Punjab Technical Education and Vocational Training Authority (PTEVTA), Punjab Vocational Training Council (PVTC) and representatives of business and industry associations such as Pakistan Readymade Garments Manufacturers and Exporters Association, Pakistan Hosiery Manufacturers Association, All Pakistan Floor Mills Association, Pakistan Leather Garments Manufactures and Exporters Association, Pakistan Footware Manufactures Associations, Solar Quality Foundation, Renewable Energy Association of Pakistan, and Surgical Instruments Manufacturers Association of Pakistan.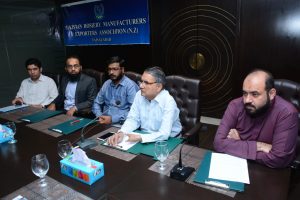 These MoUs have been facilitated by the TVET Sector Support Programme, which is funded by European Union and the governments of Germany and Norway.
These MoUs were signed in the ceremonies held in three cities – Sialkot, Faisalabad and Gujrat.
The purpose behind MoUs is to establish a mechanism of mutual collaboration, understanding and facilities between the signatories to promote TVET in the Punjab Province and provide technical trainings.
Based on the understanding reached between the training providers and the industry association, both sides agreed to collaborate for planning and delivery of CBT&A (Competency Based Training and Assessment) with increased collaboration between enterprises and training institutions. Moreover, the industry will also facilitate the placement of TVET graduates into employment, long term internship, work shadowing.