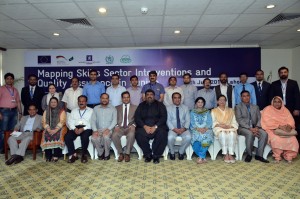 LAHORE July 20, 2017: Creating synergies and cooperation is a key to develop a joint vision and ensure collaborative efforts for making the technical and vocational education and training (TVET) system responsive to the market needs in Punjab. Chairman Planning and Development Board, Government of Punjab, Mr. Jahanzaib Khan said this while inaugurating a one-day workshop on "Mapping Skills Sector Interventions & Quality Assurance in Punjab" here on Thursday. The workshop was organized by Punjab Department of Industries, Commerce and Investment Department, which is the main organization coordinating all TVET related policies in Punjab.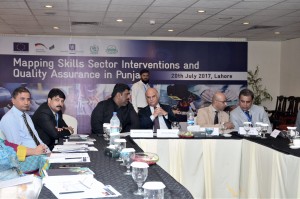 The main purpose of the workshop was to take stock of the various interventions, being implemented in Punjab by different development sector bodies, as well as enhance cooperation and create synergies among various stakeholders of TVET from and private sector.
The session also aimed at creating an understanding and awareness regarding TVET related interventions within the national context, particularly the National Skills Strategy and the National TVET policy, launched in 2015 by the Federal Ministry for Federal Education and Professional Training.
The workshop was supported by the TVET Sector Support Programme (SSP), which is funded by the European Union, the Federal Republic of Germany and the Royal Norwegian Embassy, implemented by the Deutsche Gesellschaft für Internationale Zusammenarbeit (GIZ) GmbH in close collaboration with the National Vocational and Technical Training Commission (NAVTTC) as well as provincial Technical Education and Vocational Training Authorities (TEVTAs) and private sector organizations.
Representatives of various public sector organizations involved in TVET delivery, international donors and technical agencies operating in Punjab attended the session. The discussion entailed around the vision of Government of Punjab for skills sector development with focus on quality assurance as well as involvement of industry in TVET delivery.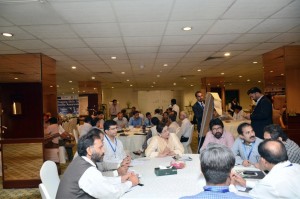 Secretary Industries, Commerce and Investment, Government of Punjab Dr. Mujtaba Paracha, while delivering his closing remarks acknowledged the participation of development partners as well as public sector organizations. He appreciated the collaborative efforts of Punjab TEVTA, PVTC, TVET SSP and other TVET partners in areas of setting skills standards, identifying occupational gaps, assessment and examination, job placement, apprenticeship, teacher training and on-the-job training. He mentioned that this rigorous discussion and attention towards the cross cutting issues in TVET will enable the landmark achievement of establishment of the Punjab Skills Forum.