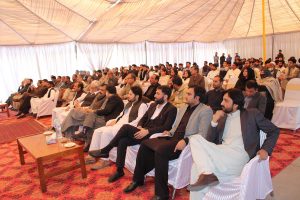 Friday, 30 November 2018: A number of leading companies on Friday signed agreements with various institutes of the Khyber Pakhtunkhwa Technical Education and Vocational Training Authority (KP-TEVTA) to train skilled workforce in various fields.
The agreements were signed in a ceremony organized by the KP TEVTA in collaboration with TVET Sector Support Programme, which is funded by the Eurpoean Union and the governments of Germany and Norway, at Advance Technical Trainig Center Hayatabad, Peshawar.
As many as 17 private companies signed agreements with the institutes of KP-TEVTA for initiating workplace-based training for the youth of Khyber Pakhtunkhwa.
The workplace-based training is a mode of training delivery which combines theoretical and practical training. Under this model, the training happens in two venues – the institute and the industry. The program embodies a strong cooperation between institute and the industry and aims to benefit both companies and the trainees.
Speaking on the occasion, Mr. Faiz Muhammad, Estate Manager Khyber Pakhtunkwa Economic Zone Development Company highlighted the importance of the ties between public and private sector. Mr. Sajjad Ali, Director KP-TEVTA and Mr. Tahir Khan, Regional Coordinator TVET Sector Support Programme also emphasized on the active participation of industries in planning and delivery of technical education and vocational training and ensured to extend every possible support to the private sector in achieving objectives of such endeavors.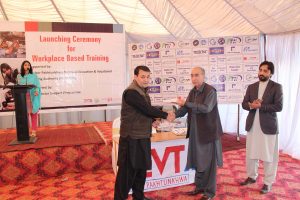 The introduction of this new way of training is supported by TVET Sector Support Programme, which envisages the private sector's engagement as a cross-cutting approach to link TVET provision closer to the needs of the labor market. The Programme, therefore, plans to facilitate the engagement of chambers of commerce and industries, sectoral associations and enterprises in the management of TVET institutions to improve governance, enhance market relevancy thus will reduce the issue of skill mismatch.