Islamabad, January 28, 2019: The National Vocational and Technical Training Commission (NAVTTC) on Monday launched a special training programme for training of highly skilled chief master trainers, as part of the ongoing reform in the technical education and vocational training (TVET) sector.
The training programme has been launched with the collaboration of TVET Sector Support Programme, which is funded by the European Union and the governments of Germany and Norway.
The programme was launched in a ceremony held here on Monday, where senior government dignitaries, diplomates and experts from the TVET sector participated.
Speaking at the Ceremony, Federal Minister for Education and Professional Training, Mr. Shafqat Mehmood asserted the idea of better teaching and training environment. He mentioned that 'teaching pedagogy and conducive training environment is highly imperative for better learning outcomes.' He said TVET reform is high on the current government's agenda.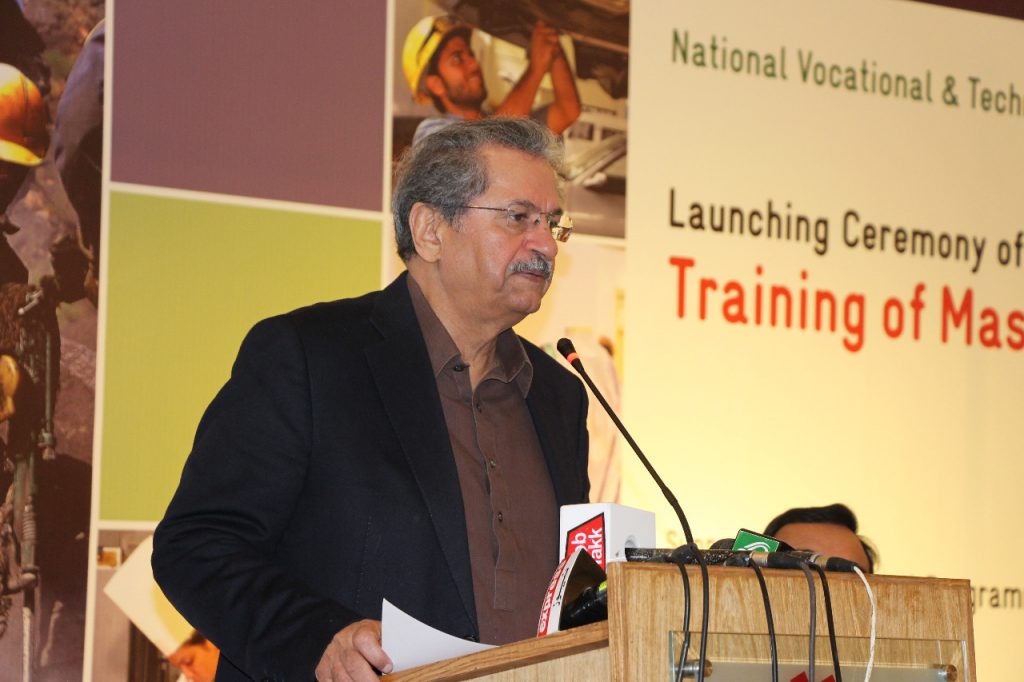 Ambassador of European Union Mr. Jean Francois Cautian, ambassador of Norway Kjell-Gunnar Eriksen, ambassador of Germany Mr. Martin Kobler and Australian High Commissioner Ms. Margaret Adamson said that these trained trainers will help in improving quality of the skills training, as the learners will get better perspective of the training in various trades.
Under this special training programme, which is supported by the TVET Sector Support Programme, a national pool of Master Trainers from various trades will be trained and certified according to the globally recognized International Training and Assessment Courses (ITAC).
The training will be delivered by the Melbourne Polytechnic Institute, Australia and Institute of Tourism, Hospitality Management, Pakistan with the collaboration of National Vocational and Technical Training Commission (NAVTTC) and TVET SSP.
The structure of these courses has been specifically designed by the Australian Government Department of Education and Training, as per the identified international TVET sectors training needs and requirements. It is also in line with international best practice for competency-based training.
As many as 120 Master Trainers will be given certificates as per the Australian Competency Based Training & Assessment (CBT&A) Framework. This will help in building the national capacity to further support the Pakistan's National Vocational Qualifications Framework (NVQF). The Master Trainers (MT), completing this internationally recognized training, will be from various demand-oriented trades. These MTs will then further disseminate training to TVET trainers under a cascading model approach.
Chairman NAVTTC, Syed Javed Hassan mentioned that NAVTTC is committed to substantially improve the quality of training delivery to meet industry's demand of skilled workforce.
Executive Director NAVTTC Dr. Nasir Khan expressed his gratitude to the ambassadors of EU, Germany and Norway for their long-standing support to bring reforms in the TVET sector.