Islamabad, November 28, 2018: Representatives of leading business and industry associations from across Pakistan here on Tuesday resolved to continue supporting the technical and vocational education and training (TVET) sector reform in the country.
Employers and representatives of various associations and chambers of commerce and industry renewed their commitments at a workshop organized jointly by the National Vocational and Technical Training Commission (NAVTTC) and TVET Sector Support Programme, which is funded by the European Union and the governments of Germany and Norway.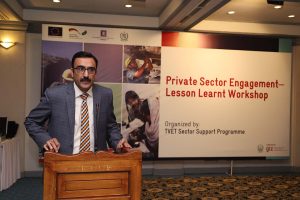 Pakistan has embarked upon a phased wise reform programme within the TVET sector to improve its quality and relevance since 2011 with the support of international development partners. Promoting private sector engagement is one of the key elements of the ongoing reform, which is being spearheaded by the NAVTTC in collaboration with TVET Sector Support Programme.
The main objective of the workshop was to review the progress of various interventions aiming at private sector engagement and plan measures for the next year.
The representatives from various the Business and Industry Associations (BIAs), Chambers of Commerce and Industries (CCIs), Federation of Pakistan Chambers of Commerce and Industry (FPCCI), enterprises and newly established Sector Skills Councils (SSCs) shared their experiences and also recommended measures for future interventions.
The Executive Director of NAVTTC Dr. Nasir Khan while opening workshop, expressed his gratitude towards the industry representatives for their commitment towards TVET sector. He said the recent experiences reflect that both the public and the private sector are willing to make the national TVET system a success.
He mentioned that NAVTTC has recently established a National Skills Forum in collaboration with the FPCCI as well as industry-led Sector Skills Councils in various key economic sectors. He said without the active engagement of the private sector, the TVET design and delivery cannot be made relevant to the job market needs. He urged the industry to come forward and help NAVTTC in improving quality and relevance of the TVET system in Pakistan.