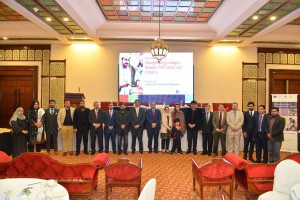 Faisalabad, December 11, 2017: Two leading hotel and food chains and Institute of Tourism and Hotel Management (ITHM) here on Monday agreed to jointly work producing skilled workforce required by the local hospitality and tourism industry. Both the industry and ITHM showed their wiliness to collaborate by signing two separate Memorandum of Understanding (MoUs) with ITHM. The ceremony was supported by the TVET Sector Support Programme (SSP), which is funded by the European Union and governments of the Germany and Norway.
The first MoU was signed by the Mr Skinar Niaz, General Manager (GM), Grand Regent Hotel and Suites and Ms Qurat ul Ain, Programme Director Institute of Tourism and Hotel Management.  While, the Mr Muhammad Umar Tariq, Executive Director (ED) of Salt'n Pepper and Ms Qurat ul Ain, Programme Director signed the other MoU.
As per the MoUs, the parties agreed to cooperate and collaborate on matters related to setting skills standards, identifying occupational gaps, Recognition of Prior Learning (RPL), job placement, apprenticeship, teachers and instructors training and on-the-job training, particularly for the trades like Chef D Partie/Cook/Sous Chef, food preparation and cooking (Culinary Arts) (Baking & Patisserie). Similarly other area of cooperation includes food and beverage captain/restaurant manager/waiter, front office/reception operation services, domestic skilled worker, basic house-keeping/accommodation operation & services and barista skills.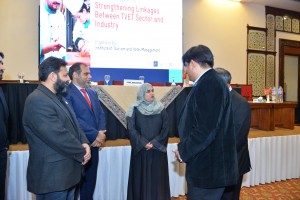 Speaking at the ceremony GM GRHS, Mr Skinar Niaz Abdullah said that the workforce with demand-oriented skill-set can prove to be beneficial for resource saving for the industry. ED Salt'n Pepper Mr Muahmmad Umar Tariq appreciated the idea of collaborative work among training institute and industry.
Ms Qurat ul Ain, Programme Director for ITHM said that the technical skills training and education can prove as a significant value addition to the industry. She also opined that collaboration between public-private sectors can enable a conducive environment for indigenous curriculum development and training delivery.
The TVET SSP, which supports the Government of Pakistan in reforming the TVET system, promotes cooperation between training providers and industry to improve quality of training as well as enhance employability for the youth going through various training programmes.