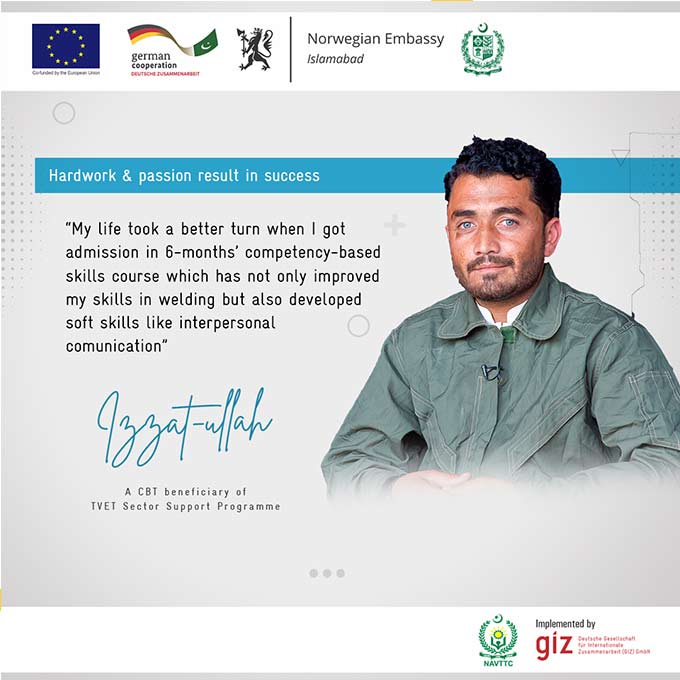 Izzat-Ullah
CBT beneficiary of TVET Sector Support Programmeand trainer at a vocational training institute
Izzat-Ullah comes from the small household in Quetta, Balochistan. Izzat-Ullah knows how hard life is for an unemployed man and more difficult if he does not have higher education. The story of his struggle is reflected through his gloomy but daring eyes.
"My life took a better turn when I got admission in 6-months' competency-based skills course of Welding at HRDC Society, a technical training institute, of TVET Sector Support Programme. I spent 3-months in HRDC for theory learning and 3-months in steel and aluminum works for on-the-job training. This course not only improved my skills in welding but also developed soft skills such as interpersonal communication skills."
He came to know about the vacancy opening for a TVET teacher (Welding) in HRDC (Balochistan). Examining his skills, they found him best for the post. Izzat-Ullah feels proud to serve the institute as instructor in which he was once a student. He said that there is a great difference in conventional learning and institute environment for learning.
As an instructor, Izzat-Ullah now stresses upon the learning of marketing skills according to the requirements of digital era just like his teachers, so that it can help his students to step in the market with full confidence.
He expresses that these kind of technical trainings courses introduced by TVET sector support programme in the country, are the means of enhancing the skills with practical field experiences and earning better livelihood hereafter.
Izza-Ullah is the beneficiary of TVET Sector Support Programme, which is working with NAVTTC, provincial TEVTAs and PVTC since 2011 for bringing reforms in TVET Sector. The second phase of programme has funding of 62.5 mn euro for implementation of reforms in the TVET sector of Pakistan on national, provincial and regional level. The Programme is funded by the European Union, Federal Republic of Germany and the Royal Norwegian Embassy. In second phase of its implementation, programme is supporting competency-based-training of 36,800 men and women on the indigenous and industry-demand-driven trades. The Programme has been commissioned by the German Federal Ministry for Economic Cooperation and Development (BMZ) and is being implemented by the Deutsche Gesellschaft für Internationale Zusammenarbeit (GIZ) GmbH.