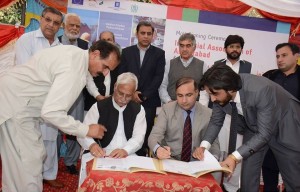 Abbottabad, October 24, 2017: The Industrialist Association Abbottabad and Government Vocational Training Institute have joined hands for delivery of skills training to the youth to fulfil the demand of local market.
In this regard a Memorandum of Understanding (MoU) was signed between both the sides here on Tuesday. The main objective of the agreement is to make coordinated efforts in order to promote the development of TVET sector in the district, focusing on demand-driven skills and placements of the local skilled workforce in various employable sectors.
The chief administrator of KP Technical Education and Vocational Training Authority (TEVTA) Mr Sharafat Ali and president Industrialists Association Abbottabad Haji Iftikhar Ahmed singed the MoU on behalf of their respective organizations. A large number of local industrialists, representatives of local TVET institutes and youth participated in the ceremony.
The initiative has been supported by the TVET Sector Support Programme, funded by the European Union and governments of Germany and Norway. An advisory forum has already been established in the province for the promotion of TVET along with fostering partnership among stakeholders mainly from the public and the private sector.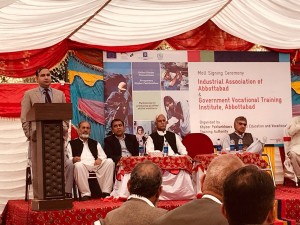 The representative of KP TEVTA Mr Sharafat Ali Khan speaking at the occasion said that the government of KP is making its utmost efforts to promote technical and vocational education and training with the cooperation of business and industry associations.
While speaking on the occasion, Haji Iftikhar, President Industrialist Association, Abbottabad, highlighted that the cooperation and better coordination mechanism between institutes and industry. He mentioned that cooperation between public-private sectors would ensure better human resource resulting in the creation of maximum job opportunities for the youth.
He said launching of demand-driven courses especially the Competency Based Training and Assessment (CBT&A) system would not only result in producing qualified workforce but at the same time it would bring the economic prosperity in the district.