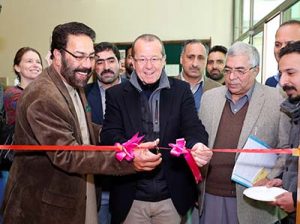 Muzaffarabad, December 12, 2018: The German ambassador to Pakistan Mr. Martin Kobler here on Wednesday inaugurated a special center to offer career counselling and job placement services to the youth in areas of technical and vocational education and training.
The center is established by the Azad Jammu and Kashmir Technical Education and Vocational Training Authority (TEVTA) at Vocational Training Institute (VTI) Muzaffarabad. Chairman AJK TEVTA Mr. Khawaja Muhammad Tariq, Principal of VTI Mr. Farooq Ashraf Awan and a large number of trainees witnessed the inauguration of the center.
While inaugurating the center, the German envoy said that the technical and vocational education and training (TVET) can enable the youth to attain employable skills in various professions, which can result into better means of livelihood. He said proper career guidance will add benefit to the trainees' appropriate selection of profession and adopting a decent career path.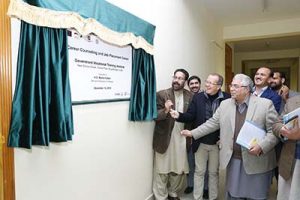 Main function of the newly established center is to offer counselling services to the youth in terms of finding a suitable training programme or a job at home and abroad.
The center has been supported by the National Vocational and Technical Training Commission (NAVTTC) under the TVET Sector Supported Programme, which is funded by the European Union and the governments of Germany and Norway.
The center is enabled with online portals that gives real time information about the latest trends in the job market. The trainees can also access the available internet facility to apply for various jobs as well as prepare their resume and learning about interview skills.