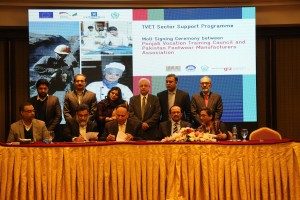 Lahore, November 23, 2017: Punjab Vocational Training Council (PVTC) and Pakistan Footwear Manufacturing Association (PFMA) signs Memorandum of Understanding (MoU) to promote the technical and vocational education and training (TVET) and gain benefit from the trained skilled workforce.
Speaking at the ceremony Chairman, PFMA Mr Farrukh Salim said, "Workforce trained through technical and vocational education can prove beneficial for quality production to provide economic gain and reduce production cost."
Managing Director PVTC Mr Sajid Naseer said that the collaboration of private sector to provide on-the-job training and advising on curriculum development can enable substantial reform in the TVET sector.
A MoU signing ceremony took place on Thursday at a local hotel in Lahore for improved partnership between the public-private sector and promote the development of curriculum and delivery of on-the-job training collectively for the mutual benefit of the public and private sector for the promotion and success of TVET sector. The collaborative efforts may not only result to create better employment opportunities for the youth but also provide benefit to the industry for their resource interests.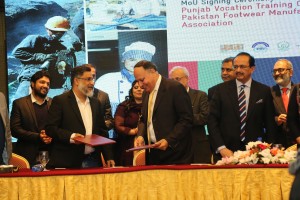 The initiative has been supported by the TVET Sector Support Programme, funded by the European Union and governments of Germany and Norway. An advisory forum has already been established in the province for the promotion of TVET along with fostering partnership among stakeholders mainly from the public and the private sector.