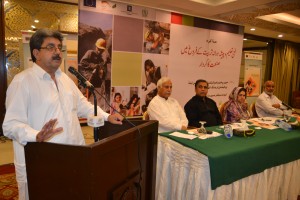 PESHAWAR, August 30, 2017: There is a need for launching demand is driven courses in order to fill the skills gap in the province of Khyber Pakhtunkhwa for which a strong linkage between public and private sector organization is significant.
These remarks were made by the provincial secretary of industries Ms Farah Hamid while speaking as chief guest at the launching of skills gap analysis of KP followed by a dialogue on private sector engagement in technical and vocational education and training.
KP TEVTA organized the session with the support of the TVET Sector Support Programme, funded by the European Union and governments of Germany and Norway. The session was organized to create understanding and increase the cooperation among private and public sector organizations for the better delivery of TVET.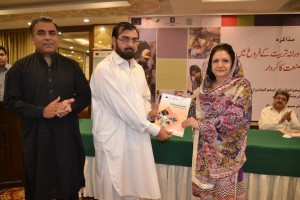 The session started with the launching of Skills Gap Analysis of KP TEVTA presented by Regional Director of National Vocational and Technical Training Commission (NAVTTC) Qasim Shah to Ms Farah Hamid.
Speaking at the occasion, she said that skills are really important for creating better job opportunities for youth and it's our collective responsibility to improve the system.
She lauded the launch of the skills gap analysis and said that wide dissemination of the report should be conducted so that irrelevant trades and courses are stopped forthwith and demand driven trades and courses are launched in the province.
She assured that provincial government and chief executive of the provinces are paying keen attention for the betterment of TVET sector and added that next year such report should be replicated by KP TEVTA itself.
The speakers including Managing Director TEVTA Munibullah Khattak, industrialists Haji Iftikhar and Ashfaq Paracha at the dialogue highlighted the importance of technical and vocational education and training, the representatives of the public and private sector. They also resolved to work together for quality delivery of TVET while overcoming challenges to ensure job opportunities in the industry.
Mohammed Ali Khan, Team Leader of TVET SSP gave a detailed presentation on TVET Sector Support Programme and shared the facts and figures of the interventions in the province. The representatives of the chamber of commerce and industry and trade associations from various districts and public and private sector institutes participated in the session.