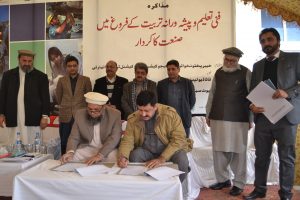 PESHAWAR, February, 13, 2018: The FATA Development Authority (FDA) and Khyber Pakhtunkhwa Technical Education and Vocational Training Authority (KP TEVTA) here on Tuesday signed Memorandum of Understanding (MoUs) with private sector associations for the promotion of the technical and vocational education and training in the region, which will ensure better job prospects for the youth.
The MoUs were signed on the sideline of a dialogue organized at Govt. Advance Technical Training Center (GATC) by the KP TEVTA and FATA DA in collaboration with the TVET Sector Support Programme, which is funded by the European Union and the governments of Germany and Norway.
The representative of FDA signed MoU with All Tribal Contractors Association (TCA) while KP TEVTA signed MoU with Pharma Association KP.
Earlier, speaking at the dialogue, the speakers called for a strong partnership between public and private sector in order to bring more job opportunities in the field of technical and vocational education and training in Khyber Pakhtunkhwa. The event was attended by the representatives of government, allied departments and enterprises as well as stakeholders of TVET sector in the province.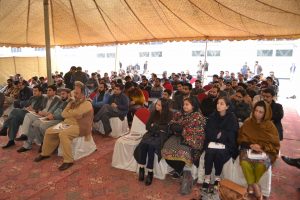 Speakers at the occasion included Malik Niaz, Vice President Sardhad Chamber of Commerce and Industry, Ashfaq Paracha, Dr. Maqbool of Pharma Association, FATA DA Manager Skills Pir Arshad Farooq, Principal of GATC Dr Hazrat Hussain, Monib Khatak, Faiz Mohammed and Adeel Pathan.
The speakers opined that cooperation between public and private sector is of a critical importance for making delivery of the technical and vocational education and training in line with the market needs. They said that greater participation of the private sector in design and delivery of the TVET is of prime importance which improves the quality of training delivery and ultimately results in better TVET system.
There is a need for launching demand-driven courses in order to fill the skills gap in the province of KP for which a strong linkage between public and private sector organization is significant. The speakers said that skills are really important for creating better job opportunities for youth and it's our collective responsibility to improve the system.