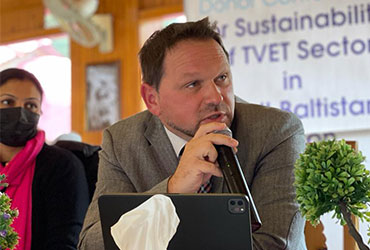 Islamabad 25th Oct 2021: The Directorate of Technical Education and Skills Development (DTESD), Gilgit Baltistan with the facilitation of TVET Sector Support Programme convened donors conference for sustainability of Technical and Vocational Education and Training (TVET) in the region. The conference was organized with the support of TVET Sector Support Programme which is funded by the European Union and the Governments of Germany and Norway. The programme is implemented by GIZ and NAVTTC in collaboration with regional TEVTAs, PVTC and regional TVET bodies like GB DTESD.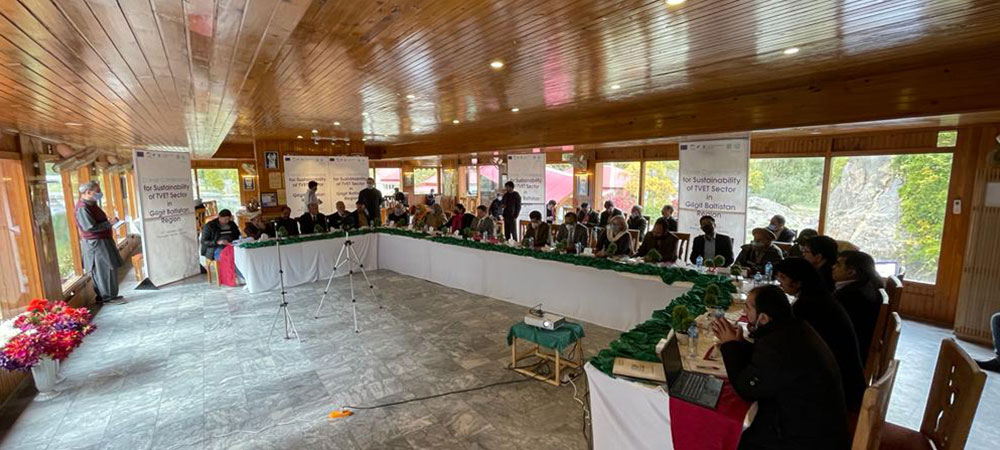 This conference provided a platform to present a Roadmap for sustainability of interventions of TVET Sector Support Programme carried out since 2011 in the region and to get full benefit of GB's economic potential and attract substantive investment into Gilgit-Baltistan to implement 5 years 'TVET Policy Implementation Plan' and 'GB TVET strategy 2030'.  
The conference paved way for developing linkages for resource generation to enhance the quality and outreach of TVET delivery. The Conference was attended by the Honourable Speaker GB Assembly Amjad Zaidi, Minister Education GB Mr. Raja Azam Khan, Secretary Education GB Mr. Iqbal Hussain Khan, Head of Cooperation EU Delegation in Pakistan Mr. Ovidiu MIC, Head of TVET Sector Support Programme Ms. Iris Cordelia Rotzoll, Director TESD Mr. Faizullah Lone along with representatives from donors organizations.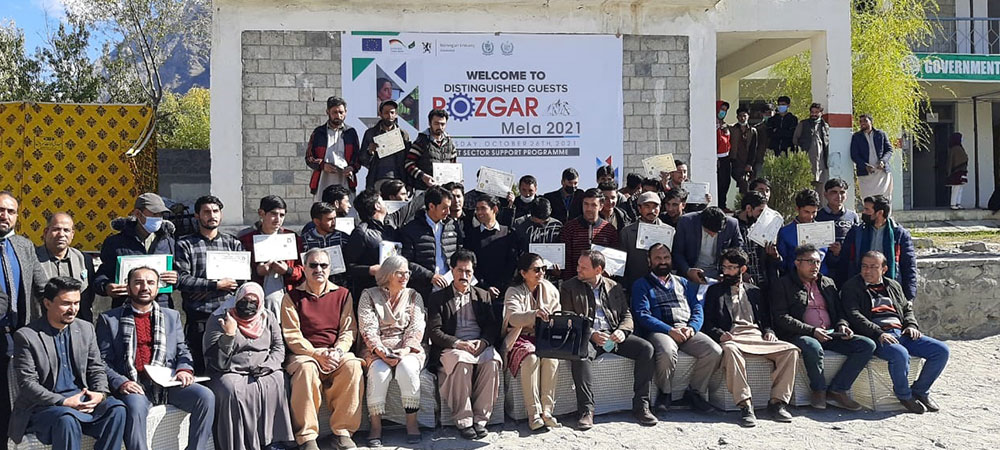 Speaking on this Occasion, Speaker GB Assembly Mr. Amjad Zaidi welcomed the participants for taking keen interest and praised the efforts of TVET SSP for facilitating this whole process. He stated that "in CPEC scenario, when GB has been witnessing number of mega economic interventions, including construction of Diamer-Bhasha Dam, expansion of KKH, un-explored mineral resources, tourism, trade and commerce, renewable energy and emerging IT sector create an appetite for skilled labour force in GB. This requires complementarities such as an effective technical and vocational training system that can adapt and & produce the required trained workforce in GB. This partnership between DTESD, TVET SSP and more development partners will help to create required workforce to meet CPEC massive economic growth".
Mr. Ovidiu Mic, Head of Cooperation, EU Delegation in Pakistan said that, "The collaborative efforts of various development partners in this region can be built further upon what we have initiated. This region has a lot of scope for several skills sector like construction, engineering, hospitality, information technology, renewable energy and so-many-so-forth".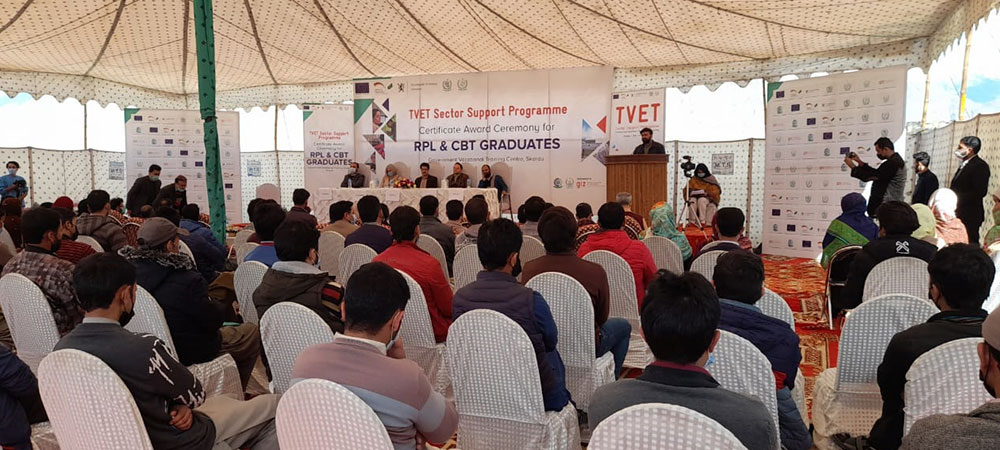 Technical and vocational education in the region has been provided in an adhoc manner. There is no formal institutional mechanism for coordination and management of TVET programmes in GB. There is a dire need to integrate all TVET activities and institutionalize them to be linked with industry/ private sector, which was the main motive behind organizing the donor conference in GB. After the recent development of the approval of the TVET Act 2018 of Gilgit Baltistan, the legislative process has opened doors for real-time reforms in the TVET Sector of this remote region. In this regard, the government will be looking to partner with organizations to support the GB government in developing infrastructure, train HR (Directorate, Trade Testing Board, Board of Technical Education) and largely support to sustain the reform.
Some key interventions of TVET Sector Support Programme in Gilgit and Baltistan includes human resource development and private sector engagement in TVET. The TVET SSP in collaboration with GB government assisted the education Directorate with formulation of Legislation for TVET (GB TVET Act 2018), Assist in Constitution of GB Training Board (2019), Establishment of Directorate of Technical Education and Skill Development (DTESD) and additional seven Vocational Training Centres in GB, initiation of Competency Based Trainings (CBT) in 07 districts, creation of funds for Training Board and Trade Testing Board (2019), adoption of CBT approach at provincial level, provision of funds (Rs. 50.0M) for CBT programmes constitution of Provincial TVET Advisory Forum, Constitution of IMCs in all institutes, Upgradation of 17 lab, establishment of 02 Model CCJP Centres (Gilgit and Baltistan Region), Assessment of 1230 informal economy workers through Recognition of Prior Learning Program (RPL), R&D Services (Institutional Capacity Assessment Survey, Survey of potential economic sectors of GB), CBT Orientation Training, Facilitating in Teachers Technical Training, Development of pool of Master Trainers, Training for TVET Champions, Capacity Development of Management in Project Management, Financial Management and Organizational Development, organizing Training on Qualification Development and Training on Carrier Counselling and Job Placement.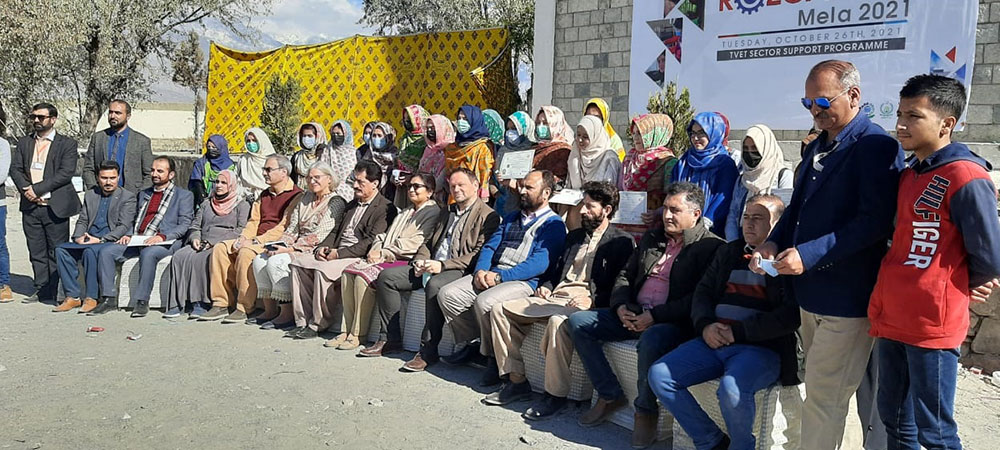 On side-lines of this conference, a workshop was also organized that provided the platform of putting forth measures for sustainability of the achievements under TVET SSP and beyond. It also provided the basis for TVET sector to attract donors/ partners in funding key areas of the 5-year TVET Policy Implementation Plan and Gilgit Baltistan TVET Strategy (2021-30).