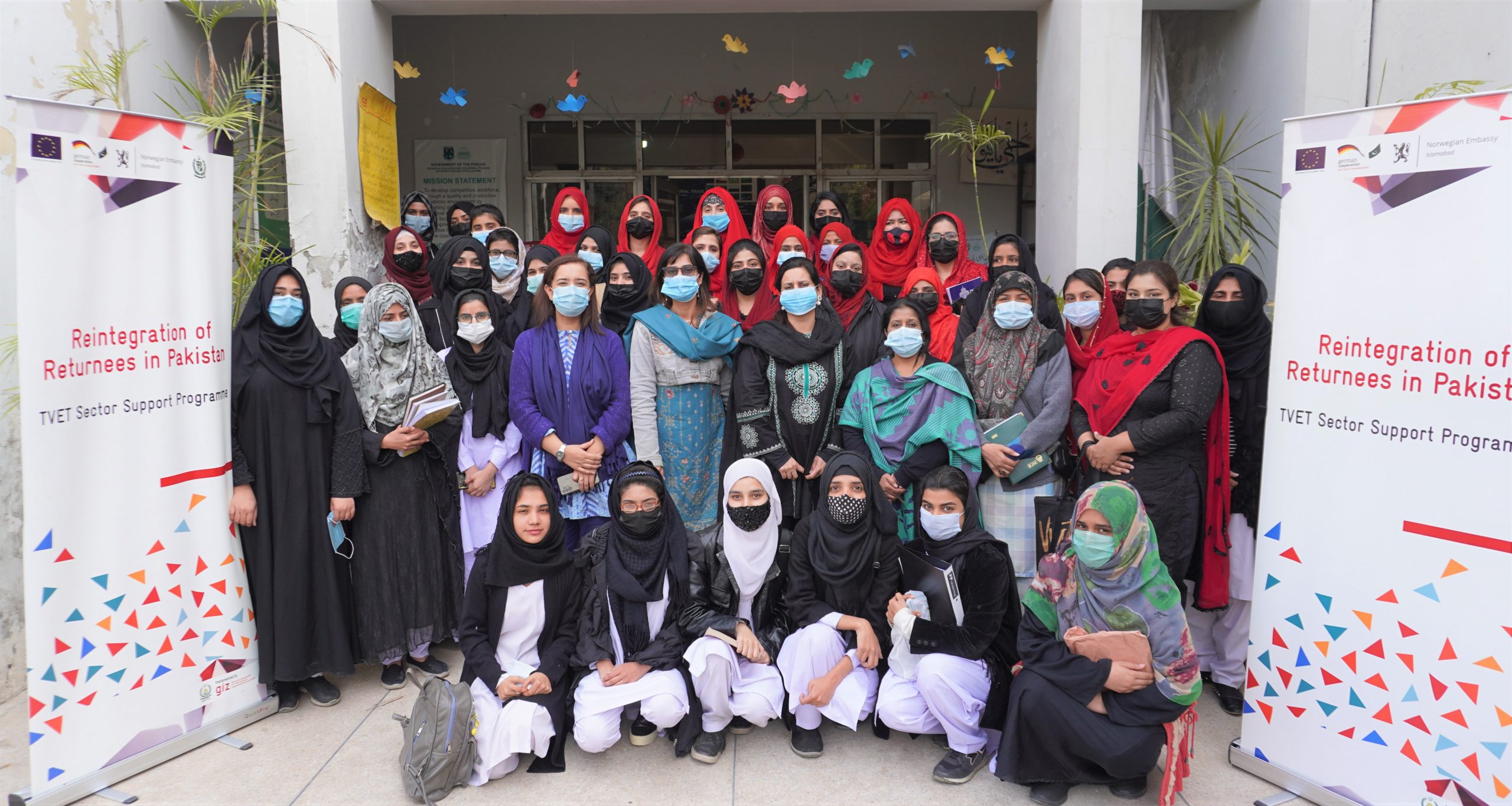 Reintegration of Returnees in Pakistan: Offering Career Advisory & Entrepreneurship Training to returnees and local Pakistanis
The TVET Sector Support Programme under its component 'Reintegration of Returnees in Pakistan' in collaboration with Punjab TEVTA recently organized a series of sessions on 'Career Advisory & Entrepreneurship' to help returnees and local Pakistanis to achieve socio-economic stability.
Six sessions were held at Government Technical Training Institutes (GTTIs) managed by Punjab TEVTA. The focus of the training was on encouraging the participants to develop positive mindsets and find right and effective ways for economic growth for themselves. Role plays and mock interviews helped the attendees to get ready for the job market. Furthermore, participants interested in securing micro loans for small businesses were briefed by the Akhuwat Foundation.
Four workshops were arranged at Government Technical Training Institute, Gulberg, Lahore where a group of 112 beneficiaries were trained on how to become an entrepreneur. An orientation on Prime Minister's Kamyab Jawab Programme was also given. This Programme offers Youth Entrepreneurship Loans to help aspiring entrepreneurs to finance their businesses on simple terms and low mark-ups.
Two similar workshops were organized at GTTI, Township, Lahore. A group of 90 beneficiaries attended these sessions and had the opportunity to speak one-on-one with career advisors. Labour migrants returning from foreign countries often feel disoriented upon their return and look for counselling. Career Advisory & Entrepreneurship support measures instil the lost confidence in them to explore new avenues and income-generation opportunities.
'Reintegration of Returnees in Pakistan' is supporting returnees and the local Pakistanis (non-returnees) by offering them quick and effective start-up opportunities. The component will support a total of 15,000 individuals, including 6,500 returnees from Germany and the Gulf Cooperation Council (GCC) countries through various support measures including Career and Entrepreneurship Advisory Services, Competency-based Training & Assessments, Recognition of Prior Learning, and Employment Promotion.
'Reintegration of Returnees in Pakistan' is a component of the TVET Sector Support Programme (TVET SSP) which is funded by the European Union, the Federal Republic of Germany, and the Royal Norwegian Embassy. Reintegration of Returnees in Pakistan offers reintegration assistance to Pakistani returnees and Pakistani nationals, particularly young adults, who return to their home country voluntarily. This component is commissioned by the German Federal Ministry of Economic Cooperation and Development (BMZ) and implemented by the Deutsche Gesellschaft für Internationale Zusammenarbeit (GIZ) GmbH in partnership with the National Vocational and Technical Training Commission (NAVTTC). A partnership agreement between TVET SSP and Punjab TEVTA was signed in December 2021 under which reintegration assistance to 425 returnees and locals will be provided through Competency-Based Training and Assessment (CBT&A) and Recognition of Prior Learning (RPL). Additionally, 200 toolkits will be provided as in-kind support and selected vocational training labs will be upgraded in training institutes in Punjab. Punjab TEVTA has been working in close coordination with TVET Sector Support Programme for a decade now and this new collaboration shows the confidence they have in each other.