LAHORE May, 27, 2016: Speakers at a seminar here on Friday highlighted the importance of engagement of the industry in designing and delivering vocational training to produce a skilled workforce according to the demands of the job market.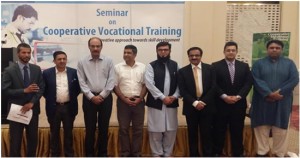 They also called upon the industry to step forward and participate in producing skilled workers to meet the demands of domestic and international markets.
The call was given at a seminar on Cooperative Vocational Training (CVT), a new model of vocational training jointly offered by the training instittute and the industry, organized by the Lahore Chamber of Commerce and Industry (LCCI). A large number of industrialists and public sector representatives attended the seminar.
The seminar also featured a presentation of handbook on Cooperative Vocational Training, which was initially launched as Germany Pakistan Training Initiative (GPATI), entailing certain instruments to involve enterprises in planning and delivery of cooperative training since 2013 in Karachi and Lahore.
The CVT is implemented through provincial technical education and vocational training authorities and private institutes in Punjab and Sindh with active involvement of national and multinational companies with the support of the European Union and governments of Netheralnds, Germany and Norway.
Mr. Abrar Ahmed, chairmanLCCI committee on CVT, Mr. Waheed Asghar, deputy general manager operations Punjab Technical Education and Vocational Training Authority(PTEVTA), Ms. Saroosh Fatima, Deputy DirectorNAVTTC and a number of others also spoke on the occasion.
Meanwhile, Chamber of Small Traders and Small Industry Hyderabadalso organized a seminar on cooperative vocational training. Mr. Mohammed Akram Ansari, president of the chamber in his welcome address appreciated the idea of CVT and assured that traders and business community of Hyderabad is ready to join this initiative.