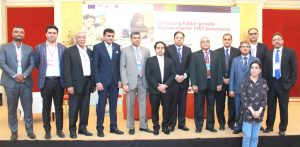 Karachi, May 15, 2018: Leading industrialists and experts on Tuesday underlined the importance of close collaboration between industry and public sector for provision of employable skills to youth according to the demands of the job market.
They also urged both the industry and the relevant institutions, offering vocational training, to come forward and collaborate for achieving the objectives of national policies and plans to improve the system of skills training in Pakistan. The topic of promoting private sector's role in technical and vocational education and training (TVET) came under discussion at a dialogue organized by the Hunar Foundation here on Tuesday.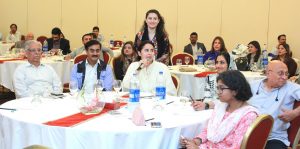 TVET Sector Support Programme, which is funded by the European Union and the governments of Germany and Norway, supported the event, which also featured a panel discussion.
The penal discussion was aimed to advocate engaging private sector in the design and delivery of trainings to enhance employability opportunities for youth. The discussion highlighted the expectations of the industry but also helped in advocating the idea of enhanced participation of private sector in TVET.
The panel consisted of Mr. Mansoor Ahmed, CEO KTDMC, Mr. Yousuf Mirza, CEO International Steel Limited, Mr. Tariq Ahmed Khan, Sr. Director Technical Indus Motors Company, Mr. Kashif Ahmed Soomro, Director HR & Administration Sindh Engro Coal Mining Company and Mr. Abbas Akbar Ali, Chairman Amreli Steels.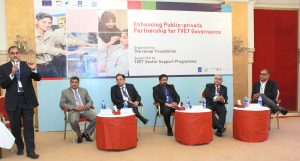 Among the notable who attended were Mr. Tolga Ucak, the Turkish Consul General, Mr. Ingolf Vogel, the Commercial Attache of Consulate of Federal Republic of Germany, Mr. Shahid Abdullah, Founding Member THF and Mr. Mehdi Hasnain, CEO THF.
Mr. Nasiruddin, Head of Grants Management and Industrial Links, The Hunar Foundation thanked all the panelists and participants.