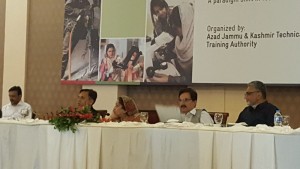 MUZAFFARABAD, August 22, 2017: The Government of Azad Jammu Kashmir would extend its all-out support for the implementation of the Competency Based Training & Assessment (CBT&A) to help to bring employability opportunities for jobless but skilled youth. This promise came during an orientation session on CBT&A organized by AJK Technical Education and Vocational Training Authority (TEVTA) with the support of TVET Sector Support Programme, funded by the European Union and governments of Germany and Norway. The Minister of Industry, TEVTA and Minerals Ms Noreen Arif presided over the ceremony while the Minister of Information and Technology Mr Mushtaq Minhas graced the ceremony as a chief guest; MLA Dr Mustafa also spoke at the occasion.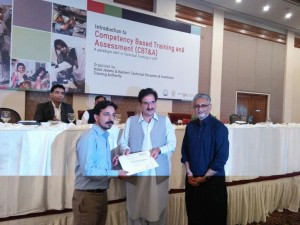 "The future of job market lies in technical and vocational education and training and CBT&A is the key to success for reaching out local and internal market' Mr Minhas said adding that government would extend full support in the roll out of the demand driven courses. Ms Arif speaking at the occasion appreciated the efforts of AJK TEVTA for the launching of demand driven courses and said that she would continue advocating the importance of TVET sector in the cabinet and assembly too. Giving a presentation on CBT&A, the chairman of AJK TEVTA Mr Zafar Nabi Butt said that the purpose of this sensitization session was to create awareness about TVET sector and the opportunities which will pave way for better employable opportunities for youth of the AJK.
He said that CBT&A will bring a paradigm shift will play a crucial role for employable skills in AJK and Pakistan. A large number of representatives from industry and media participated in the session followed by question and answer session. Certificates were also handed over to national assessors from AJK at the occasion. The AJK TEVTA also launched new corporate logo of the organization.