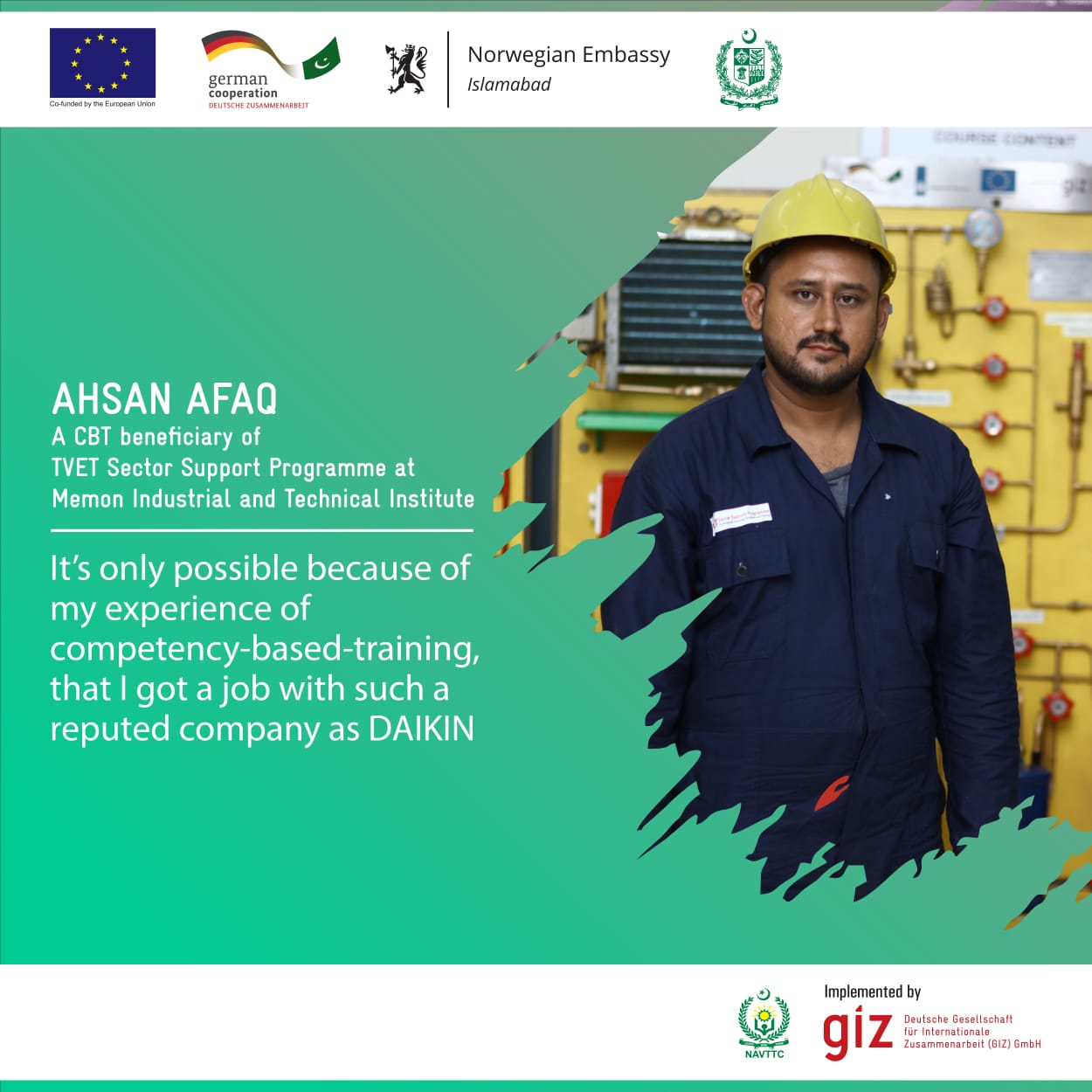 Ahsan Afaq
There are some fortunate individuals in the world who find the right skill set for themselves at the right time. Ahsan Afaq is one such individual who was fortunate enough to find the right match of skills for himself just when he needed it the most. Ahsan was struggling in life after having completed his intermediate education. He did not have a skill to call his own and was trying his luck at various things.
Like any other Pakistani young man, Ahsan also started looking for work straight after his intermediate exams. Doing random jobs on daily basis wasn't enough for him to make both ends meet. He eventually put enough money together to travel to Dubai and try his luck there. But his main let-down was that he was not a skilled worker, hence, he could not get a better job in Dubai either. Ahsan now wishes that if only he had known about competency-based training then things would've been different today.
Ahsan got back from Dubai and got married in Pakistan and got more responsibilities on his shoulders. He was then blessed with a daughter and a son. He needed a job more than ever to take care of his family. His daughter was mute and deaf by birth. All Ahsan wanted in his life now was to give a better future to his children. Right when he thought he would never get a better job because he's not skilled, his friend introduced him to competency-based training in HVAC offered at Memon Industrial and Technical Institute with the support of TVET Sector Support Programme.
And that changed Ahsan's life forever. Ahsan did his 6-month long Domestic AC Mechanic Course from MITI coupled with 3 months on-the-job training to further polish his skills. Ahsan is grateful to TVET Sector Support Programme and says, "It's only possible because of my experience of competency-based-training, that I got a job with such a reputed company as Daikin". Now Ahsan gets more money than a non-certified AC technician and also works freelance. Having completed his Level 2 certification, Ahsan is now confident that he will be able to give his children a future they deserve.
There are many Ahsans out there today thanks to TVET Sector Support Programme's delivery model, who get on-the-job-training for competency-based skills and make a bright future for themselves and their families. TVET helps in creating employment opportunities for the young generation to go out a play their role in the economic development of the country.
Ahsan is the beneficiary of TVET Sector Support Programme, which is working with NAVTTC, provincial TEVTAs and PVTC since 2011 for bringing reforms in TVET Sector. The second phase of the programme has the funding of 67.5M Euros for the implementation of reforms in the TVET sector of Pakistan on the national, provincial, and regional levels. The Programme is funded by the European Union, Federal Republic of Germany and the Royal Norwegian Embassy. In second phase of its implementation, programme has supported competency-based-training of more than 61,000 men and women on the indigenous and industry-demand-driven trades. The Programme has been commissioned by the German Federal Ministry for Economic Cooperation and Development (BMZ) and is being implemented by the Deutsche Gesellschaft für Internationale Zusammenarbeit (GIZ) GmbH.