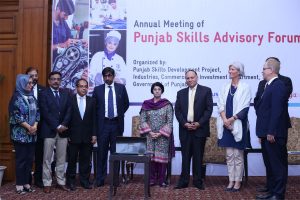 LAHORE, February 27, 2018: Demand-driven skills training is only possible through the active involvement and close collaboration between public-private sector. These remarks were made by the Member Planning & Development Board from Government of Punjab Mr Agha Waqar, at the annual meeting of the Punjab Skills Advisory Forum, held today at a local hotel in Lahore.
The meeting was organized by the Project Implementation Unit (PIU) of Industries, Commerce & Investment acting as a secretariat for the Skills Advisory Forum (PSAF) in Punjab. The establishment of forum is supported by the TVET Sector Support Programme, which is funded by the European Union, the Federal Republic of Germany and the Royal Norwegian Embassy, implemented by the Deutsche Gesellschaft für Internationale Zusammenarbeit (GIZ) GmbH in close collaboration with the National Vocational and Technical Training Commission (NAVTTC) as well as provincial Technical Education and Vocational Training Authorities (TEVTAs) and private sector organizations.
The forum serves as a platform for the stakeholders from public and private sectors to improve the collaboration through advocacy & awareness, provide strategic guidance regarding the implementation of the TVET reform, discuss policy issues and make the recommendations for improvements of the TVET sector. A dedicated website has also been developed by the forum secretariat with the support of TVET Sector Support Programme, to be utilized as a tool for sharing information to the greater audience.
The technical experts from various technical agencies and donor bodies agreed on the significance of the collaborative efforts of the public and private sector. Experts from P&D Board GoP, European Union (EU), World Bank, Louis Berger and DFID, vowed to the private sector that with their interest and technical input the TVET sector can seek potential reform in terms of curriculum, assessment, on-the-job training as well as job placement. Speakers opined that only the collaborative efforts can bridge the gap and provide required efficient man-power to the industry as per their needs. Platforms like Skills Advisory Forum and Sector Skills Councils can play significant role in the implementation of the National TVET Policy which speaks about the leading role of private sector.
Office bearers and senior representatives, Chamber of Commerce and Industry Lahore, Faisalabad, Gujranwala, Sialkot; Punjab Technical Education and Vocational Training Authority, Pakistan Vocational Training Council, Small and Medium Enterprise Development Authority, Pakistan Board of Technical Education, Trade Testing Board and Associations of Footwear, Automotive, and other organizations participated in in the forum.