ISLAMABAD, November 30, 2021: The National Vocational and Technical Training Commission (NAVTTC) here on Tuesday launched the National TVET Gender Mainstreaming Strategy in collaboration with the TVET Sector Support Programme to create a gender responsive TVET system.
Chairman NAVTTC Syed Javed Hasan in his keynote termed the launch of the strategy as a fact that the NAVTTC is paying attention towards mainstreaming of gender in the TVET sector of Pakistan.
'The implementation of the gender mainstreaming strategy is significant which will set the course for entrance of more and more women into the technical and vocational education and training arena of the country' he mentioned.
The ceremony was organized by NAVTTC in collaboration with the TVET SSP, which is funded by the European Union and governments of Germany and Norway.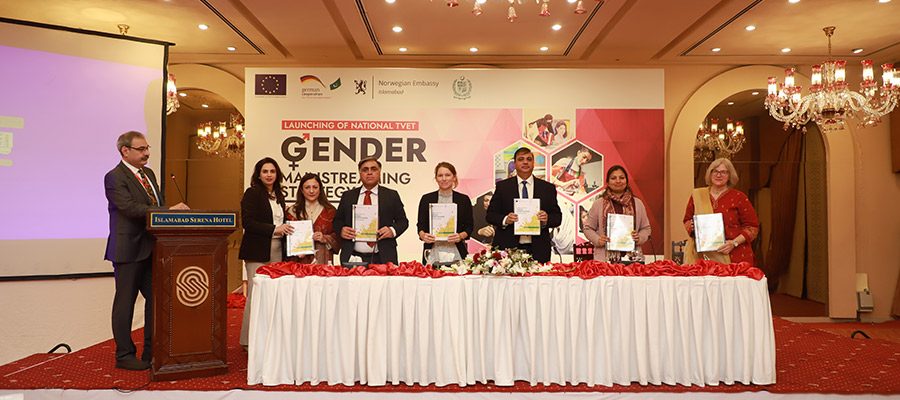 In her remarks, Marion Pfennigs, First Secretary Head of Development Cooperation, Embassy of Federal Republic of Germany said that "I am very happy to be part of this launch ceremony and I found a great ally in NAVTTC and particularly in the ED". 
She said that gender is always been an important issue and that we need to work a lot in it especially in Pakistan. More women needs to be catered for by the TVET sector adding that Germany will continue its support to the TVET sector in Pakistan . 
Saadia Ainuddin, Development Advisor of the EU Delegation to Pakistan while sharing her views congratulated NAVTTC and GIZ for the launching of the strategy. She said that more and more women and girls need to be brought in the non-traditional trades. The entrance of women is linked with a conducive atmosphere for women at workplace.
Sajid Baloch, Executive Director of NAVTTC in his opening remarks welcomed the participants of the ceremony and said that the implementation of the national TVET strategy will be our top priority.
Iris Cordelia Rotzoll, Head of TVET SSP in her remarks lauded the team behind the national strategy for gender mainstreaming adding that this is a very important and priority area of the Programme in next phase as well.
Gulcheen Aqil, Gender Advisor of the TVET SSP presented a detailed overview of the strategy and its implementation mechanism.
The National Gender Mainstreaming Strategy helps create a gender responsive TVET system that can reduce the gap in labor force participation by supporting women acquiring the skills and the education necessary to transition from training into better job opportunities.